Book Speaking Engagement
or author signing:


(photo by Bakersfield Magazine)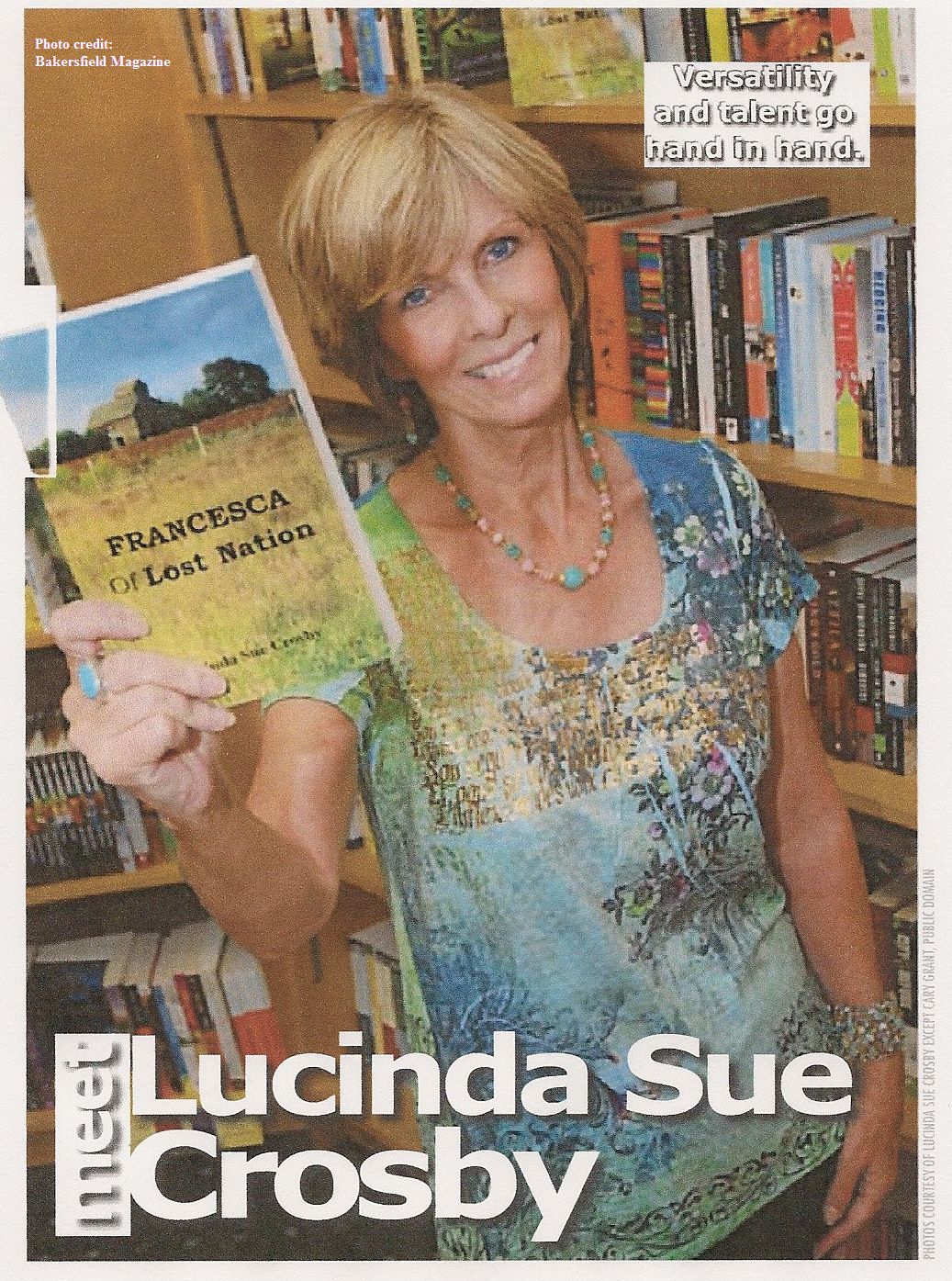 Lucinda Sue Crosby has a lifetime of stories to share from her days as a professional athlete, a career in television and film, behind the scenes in Nashville as a recorded and published songwriter, as an award-winning environmentalist and journalist and her most recent ventures as an author.

A lively and sought after speaker, Crosby, would make a great guest for any event.
RECOMMENDATIONS:


By Patricia Fry




I have had occasion to see Lucinda Sue Crosby in action as a speaker and found her to be extremely engaging and entertaining.

In my opinion, Lucinda has virtually all of the qualities that make a good speaker. She is energetic, animated and brings some great material to her presentations. She also knows how to dress appropriately, whatever the occasion. I especially enjoy her humor and appreciate the way she can pull it off even under difficult circumstances.


I admire speakers who care about their audiences and it is obvious that Lucinda does. You have the sense that she is speaking directly to you. She has a wonderful stage presence--a way of taking command with easy confidence. Another element of a good speaker, in my opinion, is a pleasing speaking voice. Lucinda is someone you could listen to for hours. She is a rare speaker who seems to know how to use her whole body as well as her intuition when speaking before an audience.



I would recommend Lucinda as a speaker in most any venue. I saw her perform once in the street during a busy festival without appearing to be affected by any of the distractions apparent all around her. She stayed focused on her avid band of audience members and, seemingly comfortable despite the commotion.




*

Patricia Fry

is a freelance writer and the author of 34 books. She wrote for The Toastmaster Magazine for many years and earned an Advanced Toastmaster Silver Award. Interestingly, Fry was the first woman ever to be a keynote speaker at a Toastmasters convention in the Middle East in 2006. She travels throughout the US and her book marketing presentations are highly sought after and enthusiastically attended.
Lucinda Sue Crosby
is one of America's most accomplished
writers making
her a lively, entertaining and informative speaker.

Seminar and Presentation
topics include:

* Starting Over and Over: a writer's reinvention from zero to hero!

* Making Love to the
Written Word: writing your posterior off

* When it comes to the blank page ... sometimes ignorance is bliss

To book this dynamic speaker,
Contact: 760 301 4279

FEES:

For Southern California
Honorarium plus travel


All other areas, please call
to coordinate costs and arrangements

laura@luckycinda.com




Upcoming Events:

* June 23
Red Rock Books Ridgecrest


* August 31 to Sept. 3
Spellbinders International Writers Conference
Honolulu, Hawaii